Admission and Skating Fees:
Admission is $18.00 per person, whether you skate or not, and Skate Rental prices are $7.00 for either inline or quad skates.

Do you charge for parents to come in?
Yes. Everyone must pay to enter whether they skate or not. 
If my friends are coming to skate, do I need to pay if I'm only going to hang out with them?
Yes. Everyone must pay to enter whether they skate or not.
Do you have a dress code?
Yes. Everyone entering must be in compliance with our dress code for their entire stay or they will be asked to leave without a refund. No revealing clothing, no sagging pants, no short shorts or hot pants. Hats are NOT allowed in the building, no tank tops for men, and no tube tops for women. The appropriateness of attire is at the discretion of rink management.
Do you offer birthday party Packages?
Yes, we do.

Are there any party packages which include food?
Yes, the Deluxe Party Package includes cake, pizza, and drinks.The Standard Party Package includes drinks but not food. Pizzas and Hot Dogs are an a la carte item, and you do receive a discount with your party package.
If I am bringing a few children that will not be skating, do I have to pay for them?
Yes. Everyone entering The Golden Skate must pay to enter. If the children are sitting down in the party room, you must pay the party package price. If they will not be entering the party room, they may be admitted for the admission price only (not the party package price) whether they skate or not.  
Do I include parents on the guest list for my party?
Yes, if you would like to pay for them to enter. If you would not like to pay for parents, they may pay for themselves if they wish to enter.    
What size skates do you rent?
Quads: Toddler: size 8 – Adult: size 16
Inlines:  Kids: size 12 – Adult: size 13  
Can I bring my own skates?
Yes. All skates are welcome except the Fisher Price skates because their wheels will scratch our floor.  Your skates must not be defective in any way or have dirty wheels. The Manager reserves the right to decide whether you can use your own skates.  
Can I wear my Heelys?
No.  
Do you sell skates and equipment?
Yes. Our pro shop has both inline and quad skates. We also sell a variety of wheels, bearings and other skating accessories. If we do not have what you are looking for, we can order it for you.
What goes on at a regular public skating session?
Most sessions are set up with a variety of special skates such as speed skating and backwards skate and a variety of games such as the Lucky Numbers Game in which we offer prizes to the winner(s). We have a live DJ during the entire session to play music and perform the light shows.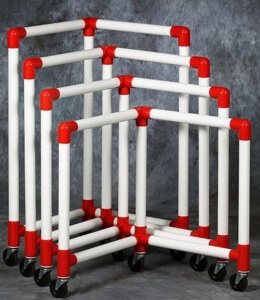 If my child does not skate well, can I walk on the floor to assist him/her?
No. For safety reasons, we only allow people with skates onto the skating floor.  We do offer the rental of Skate Mates to help your child skate on their own. Skate Mates are made of plastic and have wheels on the bottom to push in front of you while you skate. They are shaped like a V with a 90 degree angle. You stand in the middle with one hand on each side and skate forward. The Skate Mates help you keep your balance while you are trying to learn the coordination of pushing your skates around the rink.
Skate Mates that come in 3 different sizes to fit most skaters. Our largest Skate Mate is recommended for skaters no taller than 5 feet.
Do you offer skating lessons?
Yes. Please see our skate schedule for our current lesson sessions.
What forms of payment do you accept?
Cash, Visa, MasterCard. No checks.  
Do you have an ATM?
We do not have an ATM at this time. Please plan ahead.

Can I rent the Golden Skate privately?
Yes. We do offer Private Events! Schools, Churches, Boy and Girl Scouts, and other civic organizations use our facility for skating parties and fundraisers. Private companies use our facility for employee appreciations, client appreciation, and networking. Others use it for private birthday parties, wedding anniversaries, Bar Mitzvah and Bat Mitzvah.  If you would like to schedule or have any questions about our Private Events, please call (925) 820-2520 Monday – Friday between the hours of 9:30 AM – 5:00 PM.  
Can I bring in food from the outside?
No. There is no outside food or drinks are allowed in the building. The only exception is if you have a scheduled Birthday Party Package with The Golden Skate, you may bring a cake or cupcakes only which will be used inside the party room. Birthday parties that have not reserved a party package may not bring a cake or cupcakes, nor may they bring anything party oriented, such as gifts or balloons.
Do you sell food?
Yes. We have a full-service snack bar with delicious fresh pizzas, hot dogs, nachos, pretzels, candy, and drinks. A full list of our snack bar menu and prices is below:

Pizza Slice
$6.60
 
Gatorade
$5.17
Whole Pizza (Pepperoni or Cheese)
$39.60
 
Bottle Water
$3.36
Pretzel
$4.95
 
Root Beer Float
$6.36
Nachos
$6.60
 
Fountain Drink Small
$4.84
Popcorn Small
$5.46
 
Fountain Drink Medium
$5.23
Popcorn Large
$6.71
 
Fountain Drink Large
$5.67
Pringles
$3.36
 
Fountain Drink Pitcher
$14.60
Ice Cream Sandwich
$4.35
 
Icee
White Cherry & Lemonade
$6.44
Drumstick/King Cone
$5.17
 
Whole Pizza & Pitcher
$48.40
Ice Cream Cup
$4.07
 
Candy
$3.36
Fountain Drink Options: Coke, Diet Coke, Cherry Coke, Sprite, Fanta Orange, Root Beer, Mr. Pibb, Hi-C Pink Lemonade, Hi-C Fruit Punch, Raspberry Ice Tea.
Prices updated August 2022
If I skate at your facility and get hurt, will you pay for my medical care?
No. Everyone entering the Golden Skate, whether skating or not, assumes the risk of injury. Because of the normal risk of maintaining balance on skates and the probability of contact between skaters, accidents can and do happen. You must voluntarily assume the risk of injury when you skate. The purchaser or user of admission and/or skate rental ticket agrees and understands that roller skating can be a dangerous sport and assumes the risk of injury when skating. If you do not assume this risk, do not skate.
YOU MUST SKATE AT YOUR OWN RISK.  
Do you take requests for songs?
Our DJ will make every effort to play your song. However, we can only take so many requests and some songs are not appropriate to play during a public skating session. If you do make a request, you must exit the skating rink floor and skate to the snack bar side of the DJ's booth to write down the song you would like on the Request Form.  
What else can you do at The Golden Skate besides roller skate?
During our skating sessions, you may also play a variety of video and redemption games and air hockey. Most of the games take tokens. We have a token machine and a change machine located by the front entrance. Our redemption center has lots of fun prizes (novelty toys, stuffed animals and other products) you can redeem with tickets won from our games.
Can I use a laptop at The Golden Skate?
Yes. We have wireless internet.  Enjoy our free WIFI.